Japanese Doctors Successfully Treat Melasma, Keloids With Laser Genesis
Japanese physicians using Cutera Lasers have been having significant success with patients who suffer from Melasma and Keloid scarring.
Laser Genesis is a non-contact laser treatment which targets and treats multiple layers of the dermis while promoting hyperplasia of collagen. Laser Genesis is effective at reducing pore size, improving skin texture and improving elasticity. Genesis also heats and shrinks the micro-blood vessels of the papillary dermis which reduces and improves erythema.
The following are patient profiles from an expert physician in Japan.  These are cases in which the physician experienced successful treatment of melasma through use of the Laser Genesis therapy.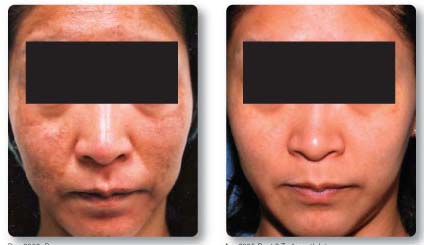 _______________________________________________________________________

The first patient was an Asian female with a long history of Melasma, which was first treated with 4 percent Hydroquinone and 0.1 percent Tretinoin.  An allergic reaction prompted a withdrawal of that treatment.  Tranexamic acid was then tried, which saw positive results, but they couldn't be sustained – the symptoms "rebounded after therapy was suspended."  So therapy with the Tranexamic acid was continued for 6 months, then Laser Genesis was introduced in between treatments.  Treatment with laser genesis allowed suspension of the tranexamic acid therapy and it prevented the reoccurrence of Melasma.
The second patient was also an Asian female who was receiving treatment with 0.1 percent Tretinoin, 4 percent Hydroquinone, and Laser Genesis therapy.  Over the course of 3 months, the patient saw significant improvements in her melasma symptoms – improved pigmentation, reduced redness and reduced inflammation.  The combination of topical treatment and Laser Genesis proved successful.
We offer Laser Genesis at our Frankfort office, along with the entire suite of Cutera laser treatments: Titan, LimeLight, Pearl, Laser Genesis, and XEO for laser hair removal. Contact us for more information or a consultation in either Frankfort or Munster, Indiana.