Breast Lift With Implants in Chicago
Life events like pregnancy, hormonal changes, and weight fluctuations can leave marks on your body, and the natural aging process doesn't always bode well for perky, full-volume breasts. This cosmetic concern is why many South Florida women seek aesthetic surgery to restore shapely breasts. A breast lift with breast implants helps restore volume and elevation for youthful contours.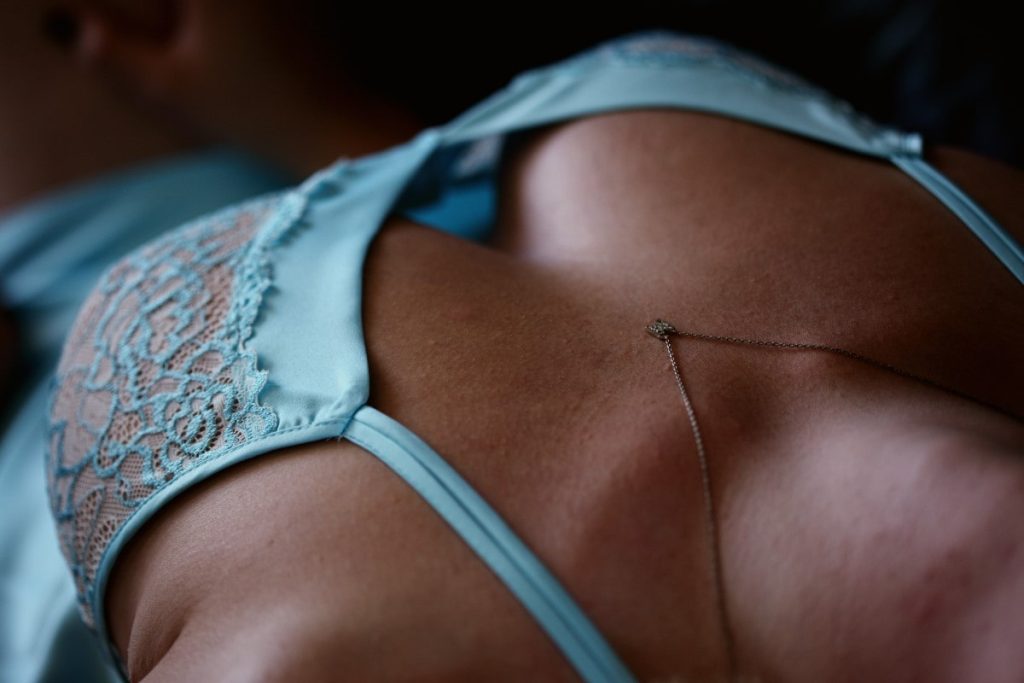 A breast lift and breast augmentation in Chicago is a combination of two popular breast enhancements to add volume, reshape, and elevate a woman's breasts. As an experienced Chicago breast lift with implants surgeon, Dr. David Dreyfuss has helped women throughout the Chicagoland area at his Orland Park surgical center by delivering optimal results from this paired procedure.
To fully understand how a breast lift and augmentation helps you restore a more youthful breast size, shape, and elevation, request a consultation with Dr. Dreyfuss, or call our office at  (815) 806-9400.
Restore Volume Through Breast Lift With Implants Surgery
Many factors go into choosing which implant will deliver the desired results. Type, size, shape, and material contribute to how your breasts look after surgery. All breast implants have a silicone shell. Some have a silicone filling, while others contain a saline solution.
If you opt to use saline implants, Dr. Dreyfuss can precisely adjust the volume when filling them for optimum control over size and firmness. In contrast, he places silicone implants in prefilled units. Silicone implants tend to feel more natural and offer more shape choices. They can be round or teardrop in form with a gummy bear implant, the latest in implant technology. These special devices provide a silicone implant that won't leak if ruptured or torn, textured much like its candy namesake.
During your breast lift with implants procedure consultation, Dr. Dreyfuss will discuss your goals and expectations. Then, he will inform you of all your options and recommend what is best for your cosmetic and health goals. He will also recommend the appropriate incision technique and implant placement for your unique anatomy and surgical plan.
Ready to Get Started?
If you would like to learn more about a certain procedure or are looking to schedule a consultation with Dr. Dreyfuss, please contact our office.
Contact Us
Elevate With a Breast Lift
A lift can restore breast elevation to that desirable upward curve. Many women over 40 are good candidates for a lift due to thinner skin and the effects of gravity and time. One way to determine if you could benefit from this surgery is to place a small object such as a pen underneath your breast crease. If it stays in place, you are an excellent breast lift candidate.
Dr. Dreyfuss will customize your breast lift using two primary incision techniques – lollipop or anchor. You and Dr. Dreyfuss will decide the location and type of incisions and your choices for implants. As a result, you will have a fully customized surgical plan to help you get the beautiful breasts you want.
Breast Lift With Implants Candidates in Chicago
Combining a breast lift with breast augmentation is ideal for women who want to enhance breast size and appearance. In addition, we find it trending with women who've had multiple pregnancies and have nursed their babies.
Here are other reasons women combine the two breast surgeries:
Poor skin elasticity
Downward-pointing nipples
Weight fluctuation
Stretch marks on the breasts
Finally, ask yourself if you have one or more of these breast-related aesthetic concerns:
Sagging
Volume loss leading to a flat, elongated shape
Asymmetry
Enlarged areolas
Though many women over 40 are excellent candidates for this breast procedure, some younger women seek surgical solutions because genetics or health factors affect their breast appearance.
Adding implants to your breast lift procedure is an excellent option if:
You are physically fit
You maintain a stable body weight
You don't smoke
You have realistic expectations
See a board-certified plastic surgeon for advice to determine if a breast lift with implants is suitable for your aesthetic issues.
The Importance of a Skilled Plastic Surgeon
Though combining a breast lift with implants has many benefits, it requires a highly skilled plastic surgeon to ensure safe and effective results. In addition, this physician must have extensive plastic and reconstructive surgery knowledge to reduce risk and optimize results.
Arrive at your consultation ready to have a candid discussion concerning every aspect of preparation, the surgical procedure, and what to expect during your recovery. Open, honest communication between surgeon and patient is crucial to ensure the best outcome.
If you are considering one or more aesthetic procedures to create or restore youthful, beautiful breasts, contact board-certified plastic surgeon Dr. Dreyfuss to schedule a consultation today!
Patient Gallery
View our before and after gallery to see real patient results of cosmetic surgeries from Dr. Dreyfuss has performed. See the amazing differences for yourself!
View Gallery
Schedule Your Breast Lift With Breast Implants Consultation
A breast lift with implants can do more than enhance your breasts. It delivers an unparalleled increase in confidence and self-esteem. For more information on breast augmentation with a lift or any other breast surgeries, contact Dreyfuss Plastic Surgery for a consultation.
Chicago Breast Lift With Implants FAQs