Breast Augmentation in Chicago
Breast Augmentation (also referred to as breast implant surgery, breast enhancement surgery, or a "boob job") is a type of cosmetic breast surgery that will enhance breast shape and the feel. Millions of women worldwide have chosen this surgery to transform their silhouettes and feel more confident, alluring, and feminine. Breast augmentation can enhance breasts, establish symmetry, improve cleavage, and improve your overall figure. Enjoy the benefits of improved confidence and feel better in your clothes!
Advances in breast implant technology and surgical techniques have allowed women to obtain a natural look and feel to their breasts. Due to the wide variety of options available with breast implants and augmentation surgery, it is one of the most customizable cosmetic surgeries performed today.
Whatever your reasons and ultimate goals, Dr. Dreyfuss can help. As a board-certified plastic surgeon with extensive experience and a keen sense of aesthetics, he has helped thousands of women feel great about their bodies through breast augmentation in Chicago. We have had years of overwhelming success in enhancing our patients' appearances and boosting their self-confidence.
Read on to learn more about breast implants in Chicago or contact us online today to meet with one of Chicago's best plastic surgeons.
How is Breast Augmentation Surgery Performed?
When you have breast augmentation surgery, there are certain common steps that occur regardless of which type of implant is used. Your surgical incisions can be made in a number of places, such as under the breast or around the nipple. The decision of where the incision is to be made is based on several factors, including your personal preference, the size, and type of implants, whether they are to be placed on top of or under the muscle, and whether you are having an accompanying lift procedure or changes to your nipples or areolas. Regardless of where your incisions will be made, Dr. Dreyfuss will always carefully study the textures, contours, and colors of your skin to minimize the appearance of your scars.
Once the breast augmentation incisions are made, Dr. Dreyfuss will construct pockets for the placement of the saline or silicone breast implants, which can then be placed. After placement, any necessary adjustments can be made to the size and location of the breast implants, and then the surgical incisions are closed. Breast augmentation surgery usually lasts one to two hours.
Ready to Get Started?
If you would like to learn more about a certain procedure or are looking to schedule a consultation with Dr. Dreyfuss, please contact our office.
Contact Us
Types of Breast Implants
Because there are so many options available to patients when they are choosing breast implants, we will work to find the right style and size for you. Dr. Dreyfuss uses only FDA-approved breast implants which have been extensively tested and studied prior to market release. All of the implant types used in our breast augmentation surgeries are safe and effective and have been used for years.
Through extensive discussion during your consult, Dr. Dreyfuss will make sure to understand your aesthetic goals and desired outcomes. He will carefully consider what you want, study the natural architecture of your body, and make recommendations for breast implants that best complement your body size and type to achieve the look you want. While there are many variables that are adjustable (such as size), breast implants are generally classified as either saline or silicone.
Saline-filled Implants
Silicone Implants
Saline-filled Implants
Saline breast implants have an outer shell made of silicone, and saline solution (or salt water) is added after placement during surgery. Filling the implants once they are in place allows your surgeon to adjust the amount of saline in the implant, adding fluid until the desired size is reached. Because they are filled once they are in place, silicone implants can be placed using a smaller incision. They are also considered to be fully adjustable as they can be sized specifically to fit your body. Saline implants are an excellent choice for patients who want more fullness in the upper part of their breasts, and they are generally firmer than their silicone counterparts. 
Silicone Implants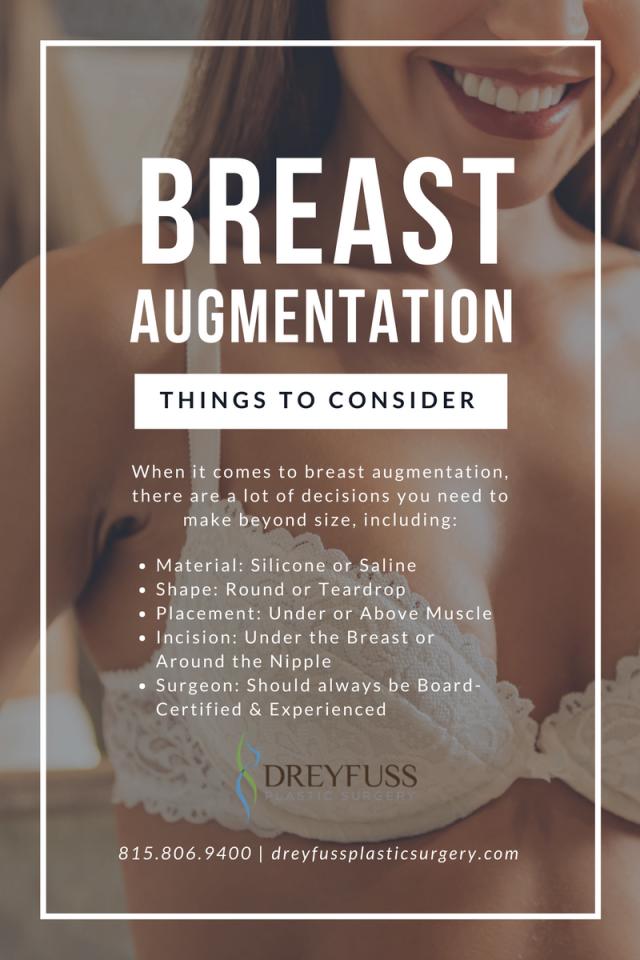 Other Variables in Breast Augmentation and Implants
Implants may be textured on the outside surface to promote the natural formation by the body of a capsule that will minimize movement of the implant. Also, if your breasts are not symmetrical or you are undergoing a revision breast surgery, it is not uncommon to place implants that are a different size in each of the breasts.
During breast augmentation surgery, breast implants may be placed either behind the pectoral muscles (sub-muscular) or behind the breast tissue but in front of the pectoral muscles (sub-glandular). While many describe the look and feel of implants placed behind the muscles as more natural, there is some flattening that occurs from the muscle pushing down on the implants. Implants placed on top of the muscle keeps the pectoral muscles intact and the implants uncompressed by muscle tissue, but may not look as natural as those placed behind the muscle. Placement will depend on a number of factors that you will thoroughly discuss with Dr. Dreyfuss during your consultation.
Implants are generally round in shape, but some are "anatomically shaped" like a teardrop. They come in a variety of profiles, which contribute to the amount of protrusion or overall roundness of the breasts. Low-profile implants are flatter than moderate-profile implants, which in turn are not as round and protruding as high-profile implants. You and your surgeon will work closely to choose the size, type, profile, and placement of your breast implants to ensure that you get the best possible outcome that will meet your aesthetic goals.
Patient Gallery
View our before and after gallery to see real patient results of cosmetic surgeries from Dr. Dreyfuss has performed. See the amazing differences for yourself!
View Gallery
What Can I Expect During Recovery and Beyond?
You will come home from surgery on the same day as your breast augmentation surgery with a compression bandage that will help to support your breasts and minimize post-surgical swelling. You should expect to rest for a few days after surgery and will likely be most comfortable resting and sleeping on your back. Within a week or two, you should be able to return to normal activities but will be unable to lift anything heavy for several weeks.
Results from breast augmentation surgery are immediately noticeable.  However, as healing takes place over several weeks and months, the implants will gradually "settle" into position and the swelling will subside, so it can be months before your final results are visible.
You and your plastic surgeon will carefully review the recovery plan that will help you to understand what to expect during recovery and how to take care of your incisions. It is important that you follow these instructions and follow up with your plastic surgeon to get the best possible results from your breast augmentation procedure.
While breast augmentation is a long-lasting plastic surgery, breast implants do not last forever. Most breast implants last 10-20 years before replacement is advised. If you choose to become pregnant and would like to nurse your infant, most breast implants do not interfere with this natural process. Also, it is possible to have mammograms for cancer screening, and all women of a certain age, regardless of whether they've had implants, are advised to follow screening guidelines.
Schedule Your Breast Augmentation Consultation
A breast augmentation procedure can do more than enhance your breasts; it's an opportunity to improve your confidence and self-esteem. For more information on breast augmentation or any of our other breast surgeries (breast lift, breast reduction, male breast reduction), contact Dreyfuss Plastic Surgery for a consultation.
Chicago Breast Augmentation FAQs