Liposuction Orland Park, IL
Do you eat right and exercise faithfully, yet still struggle with excess fat deposits that just won't go away? Does it seem like these stubborn fat deposits are immune to any health regimen or work out?
You sacrifice your favorite meals, you push yourself with physical training, but the body fat just stays. You feel good – but you want to look better!
Many people, active or not, become frustrated after multiple attempts to lose areas of stubborn fat around their thighs, hips, abdomen, love handles, knees, back, arms, neck, and chin.
By using new liposuction technology, we can eliminate those areas of fat that are unresponsive to typical weight-loss methods, and with gentler, state-of-the-art techniques, we can do it with less bruising, less pain, and shorter recovery time. Once you've fully recovered, you should see a slimmer, more proportionate figure.
If you want to find out if you're a good candidate for Liposuction in Orland Park or to learn more about the procedure, please reach out to Dr. Dreyfuss. Call us at 815-806-9400 or contact us today!
Consultation for Liposuction in Orland Park
At Dreyfuss Plastic Surgery, we involve you in your liposuction experience—which starts the moment you contact us. Our entire staff believes in helping every patient have a clear understanding of how liposuction works and what its expected results are. At your first visit, you will have the undivided attention from Karen, your patient coordinator, and from Dr. Dreyfuss himself.
Your initial visit is valuable. We will administer a medical exam to determine if you are an appropriate candidate and we will discuss your goals concerning liposuction, explore your liposuction options, and determine a liposuction procedure which best suits you. Please bring photos to show the results you wish to attain. This will help us understand what your aesthetic goals are and help us determine if they're reasonable.
We will consult you on the benefits, risks, and healing during recovery in detail. This initial visit is a great time for you to discuss your concerns and ask any questions you have about liposuction.
Patient Gallery
View our before and after gallery to see real patient results of cosmetic surgeries from Dr. Dreyfuss has performed. See the amazing differences for yourself!
View Gallery
Beyond any expectation that I had before surgery. It was not rehearsed or fake; I just felt comfortable. I loved the "realness" of the staff. Once I met Dr. Dreyfuss, I knew he would be the best. He didn't pull any punches, he was straight forward and explained all the details on what I needed to do to look better.

He is an unbelievable surgeon but at the same time personable, sincere and a professional gentleman. He's Great! I would never go anywhere else … I would never go anywhere else. I think you should change the practice name to "Body by Dreyfuss" and everyone can wear t-shirts around town. Thank you for everything! ~ L.G.
Are You a Good Candidate for Liposuction Chicago?
If you exhibit stubborn fat deposits – localized areas of fat – then you may be a good candidate for liposuction. To be a candidate, it's crucial that patients be close to their ideal weight or have a healthy body mass index before undergoing liposuction—it is not a weight loss procedure. Patients should not expect to lose a significant amount of weight through the procedure.
The chief purpose of liposuction is the removal of stubborn fat—not skin. It's why the most ideal candidates for liposuction are the ones who have good skin elasticity; we don't want the liposuction procedure to result in loose, excess skin.
Optimal Chicago liposuction candidates are:
Within thirty percent of their ideal weight and possess good body tone and skin elasticity.
Patients who have no serious health issues.
Patients who don't smoke.
Patients who understand the risks and have realistic expectations on what liposuction can do and not do.
Dreyfuss Plastic Surgery provides liposuction for Orland Park residents who are frustrated with stubborn fat deposits. You can get a realistic picture of what liposuction achieves by viewing our liposuction before and after photos.
How Liposuction Works
Dr. Dreyfuss performs liposuction as an outpatient procedure in our AAASF and JCAHO accredited surgical facility. Your liposuction surgery will be performed under epidural or general anesthesia. In most cases, we perform liposuction under general anesthesia. Since tumescent liposuction is the most trusted body contouring method available, Dr. Dreyfuss frequently performs it. First, Dr. Dreyfuss will make small incisions in the target area to allow the liposuction device to access the unwanted fat cells. The incisions are small enough that they'll look inconspicuous when they heal—almost like small moles.
Before the procedure begins, Dr. Dreyfuss saturates the fat with a special tumescent solution. Through a very small incision, he inserts a tiny tube (cannula). The cannula manipulates the fatty tissue and removes fat using suction. The anesthetic-containing tumescent solution reduces bleeding, reduces pain and makes it easier to collect fat without damaging the tissues.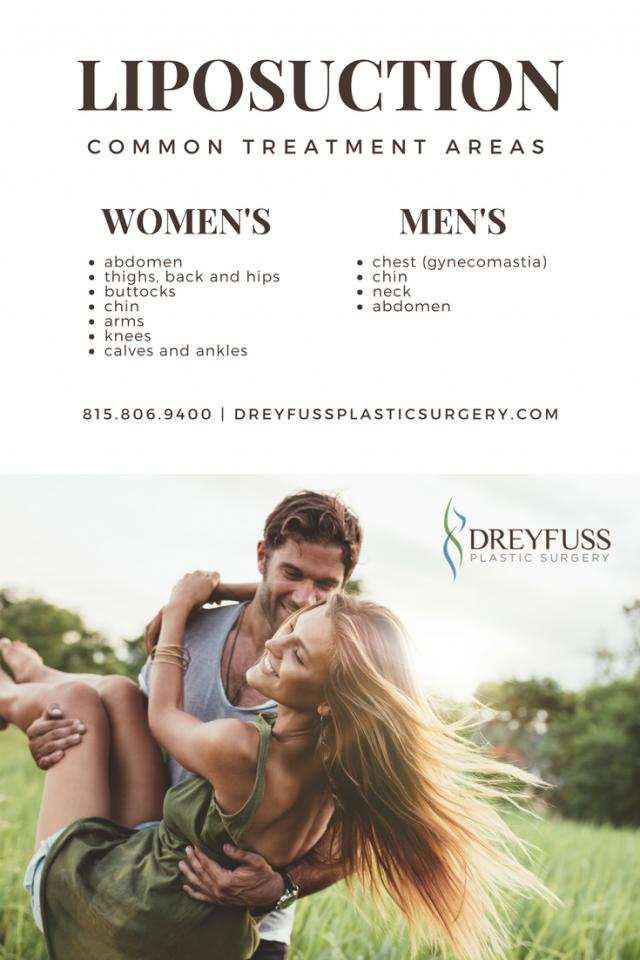 After Liposuction
The recovery time for liposuction will vary depending on the extent of the procedure. The average recovery time is 2-3 weeks. Although you should expect some bruising, swelling and discomfort during your liposuction recovery, patients typically return to work or school within seven days. A special compression garment is usually provided to reduce swelling and ensure a smooth result. After about four weeks, patients can typically return to their exercise regimen. Dr. Dreyfuss will help map out a recovery plan for you.
It is important to understand that diet and exercise are critical to maintaining the results you achieve with liposuction.
Choosing a Plastic Surgeon for Liposuction in Orland Park
If you're considering liposuction, you'll have many important choices to make. The most important choice concerning liposuction is the surgeon who will perform the procedure. Are they properly trained and educated? Are they in good standing with the medical boards and the local community? Are they board-certified?
Your plastic surgeon for liposuction should:
Be board-certified
Have completed at least six years of surgical training and three years of plastic surgery residency training
Have passed a comprehensive array of written and oral exams
Have graduated from a prestigious medical school
Complete continuing medical education every year
Perform liposuction in an accredited surgical facility
They should have extensive experience in liposuction with photo galleries and testimonials to prove it. They should also have a thriving practice with a team of compassionate, caring, and professional members to support them.
You should feel at ease with this team before choosing the surgeon for your liposuction.
Please visit our about us page to review the credentials of Dr. Dreyfuss and our team as well as our facility.
Learn More
If you want to find out if you're a good candidate for Liposuction or to learn more about the procedure please reach out to Dr. Dreyfuss.
Contact Us Today!
FAQs about Liposuction Chicago
If you want to find out if you're a good candidate for Liposuction or to learn more about the procedure, please reach out to Dr. Dreyfuss. Call us at 815-806-9400 or contact us today!