Adult Acne: Why Do I Still Have Breakouts, and What Can I Do?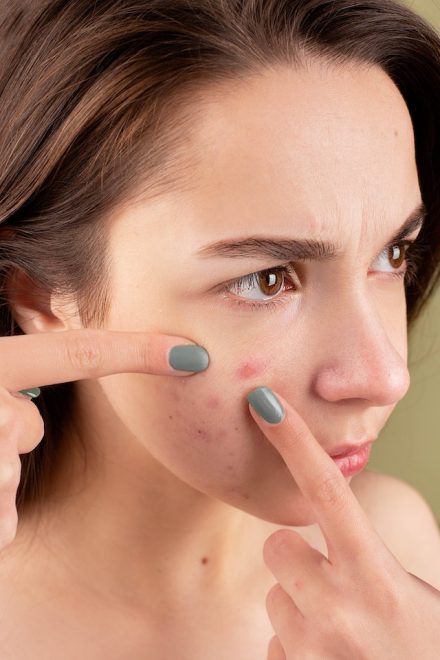 You struggled with red, breakout-prone skin throughout high school – and those pesky pimples can come back to haunt you even when you're well beyond puberty. While adult acne is frustrating, it's common for patients in their 30s, 40s, and 50s.
According to the American Academy of Dermatology, adult acne especially plagues women. Their research suggests that 45% of women aged 21 to 30, 26% of women aged 31 to 40, and 12% of women aged 41 to 50 deal with adult acne. The frustrating part? Face washes and astringents designed to fight acne often worsen your complexion, since your skin loses moisture with age.
To get to the root of the issue, you must understand what's triggering your breakouts. Various factors cause acne – from diet to hormones to your daily skin care routine. Here, we offer multiple solutions to eliminate these unsightly pimples for good.
Watch What You Eat
When blood sugar rises quickly, it causes your body to release insulin-like growth factor 1, a hormone that manages growth. Excess IGF-1 in your blood can cause your oil glands to produce more sebum, increasing your risk of acne and inflammation.
Some foods – including pasta, white rice, white bread, and sugar – may trigger acne breakouts by causing blood sugar spikes.
Other researchers have found a connection between the standard American diet and acne. This diet relies heavily on the following:
High-glycemic carbohydrates
Saturated fats
Dairy
Trans fats
These foods stimulate the hormones that cause your glands to secrete more oil. They may also cause significant inflammation, contributing to acne problems.
Adult Acne Treatments
This post offers our top picks for adult acne treatments, giving you a selection of optimal medical-grade remedies for smooth, blemish-free skin.
Vivace Microneedling
Microneedling with radiofrequency provides a custom treatment that targets adult acne. We deliver a blend of medical-grade products designed specifically for your skin directly into your dermis. This solution stimulates your skin's natural healing process, treats light acne scarring, and improves skin tone and texture.
Facials and Peels
Our med spa offers a carefully crafted selection of facials and peels that can get breakouts under control, leaving you with a smooth, clear complexion. Our esthetician offers customized facials, Vibraderm, and chemical peels to resolve acne, sun damage, and rough skin textures.
DiamondGlow™
DiamondGlow™ Dermalinfusion works on multiple levels. It combines microdermabrasion, vacuum massage, and the application of scientifically formulated serums. DiamondGlow™ is versatile enough to use virtually anywhere on your body to eliminate blemishes, signs of aging, and heal your skin at the cellular level.
Chicago's Leading Plastic Surgeon
When you call our Orland Park office to schedule your initial consultation, Dr. David Dreyfuss will work with you to learn about your concerns and recommend a personalized treatment approach. To learn more about adult acne and facial rejuvenation from a board-certified plastic surgeon, call us at (815) 806-9400 or reach out online.