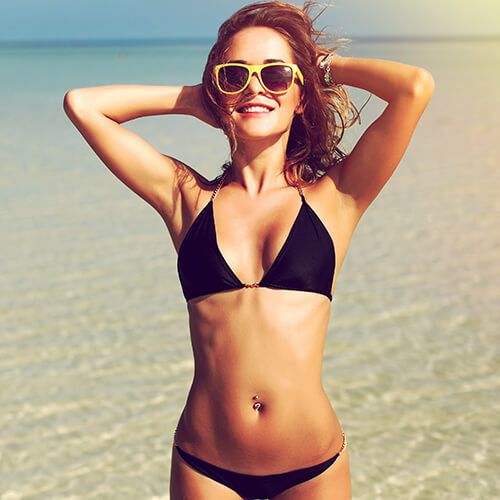 Many people, both active and not, become frustrated with failed attempts to lose areas of stubborn fat around their thighs, hips, abdomen, love handles, knees, back, arms, neck and chin.
By using new liposuction technology that is gentler on the tissues, we can eliminate those areas of fat that are unresponsive to typical weight-loss methods, with less recovery time and reduced pain and bruising. A better proportioned, even body contour is revealed after the procedure and recovery is complete.
Are you a good candidate for liposuction?
If you exhibit stubborn fat deposits – localized areas of fat – then you may be a good candidate for liposuction. It is very important for liposuction patients to have good skin tone and be at a stable body weight. Liposuction is performed to contour the body, so patients should not expect to lose a significant amount of weight through the procedure. To get a realistic picture of what can be achieved, view our liposuction before and after photos.
How Liposuction Works
Tumescent liposuction is the most trusted body contouring method available today.
In most cases, we perform liposuction under general anesthesia. Before the procedure begins, your plastic surgeon saturates the fat with a special tumescent solution. Through a very small incision, a tiny tube called a cannula is inserted. The cannula manipulates the tissue and removes fat with suction. The anesthetic contained in the tumescent solution helps make the process more comfortable and allows easier passage of the cannula.
After Liposuction
Recovery time for liposuction will vary depending on the extent of the procedure. Average recovery time is 2-3 weeks. Although some bruising, swelling and discomfort should be expected during recovery, patients typically return to work or school within 7 days. A special compression garment is usually provided to reduce swelling and ensure a smooth result. After about 4 weeks, patients can return to exercise. With a rigorous exercise routine, you can further enhance the results of liposuction.
Learn More
If you want to find out if you're a good candidate for Liposuction or to learn more about the procedure please reach out to Dr. Dreyfuss.
Contact Us Today!